Oral Hygiene and Preventative Care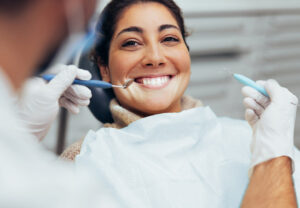 Do you know why Regular visits to your dentist are vital to keeping your teeth, gums and mouth healthy? Because consistent doctor exams play an important role in the prevention and early detection of oral health problems. Recent studies have proven oral health can impact the overall health of your entire body. Even minor oral issues can turn into bigger problems, and may result in more invasive and expensive treatments later on. At Cherry Creek Dental Spa, we are committed to helping our patients maintain good oral health by offering comprehensive dental exams.
A comprehensive dental exam is an extensive exam that assesses the patient's intraoral, extraoral and soft tissues in conjunction with a full set of x-rays showing all of the teeth. The American Dental Association recommends that all patients undergo this exam on their first visit to the dentist and then every 3 years following the initial examination.
Some patients avoid dental visits for a variety of reasons including lack of time, fear of dental procedures and a lack of information. But dental exams are important because they can lower your risk of tooth decay, gum disease and even heart disease. Comprehensive exams also look for early signs of oral cancer.
What to Expect
When you arrive in our office for your appointment, our team will perform a thorough evaluation of your mouth, gums, teeth, head and neck. We will check if your teeth are showing signs of tooth decay, assess your risk of gum disease, and check for possible signs of oral cancer. The dentist will also perform a bite analysis exam, examine your jaw joints and take x-rays of the structures in your mouth. Then we will discuss your oral health goals and habits with you, and share with you some techniques and tips to maintain a healthy smile.
Following your comprehensive dental exam, you will be given an individually tailored treatment plan, detailing the risks and benefits of your decision regarding your dental treatment, and will present you with options that will best fit your needs and priorities.
Final Thoughts
If you have not had a comprehensive dental exam in a long while, please schedule one as soon as possible. These comprehensive exams offer so much value and will benefit you for many years to come. Please don't hesitate to call our office as we specialize in looking after our patients' teeth so they can maintain a healthy and beautiful smile.