Dental Specialties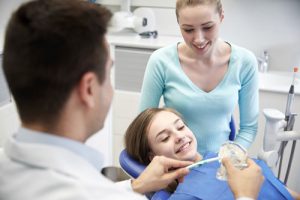 For most people, a general dentist can handle most oral care issues. But in some cases your dentist may refer you to a specialist.
In the US and Canada, there are 9 recognized specialties. Here are some overviews for each one:
Prosthodontics. You need to see a prosthodontist if you require fake or prosthetic teeth. These are the specialists who focus on providing solutions such as crowns, bridges, and partial or complete dentures. While some general dentists are able to also put in crowns and bridges, for the most difficult cases a prosthodontist may be required.
Periodontics. The periodontist is the specialist who's most concerned about the state of your gums. They're the dentists you need if you have serious gum disease. They can perform gum grafts and gum surgery, and also put in dental implants through the gums and into your jaw.
Pediatric dentistry. While generalists can take care of children's teeth, pediatric dentists are much more experienced at it. They're the one who've received training so that they're much better able to calm down even fussy or anxious children patients. They're also more familiar with dental problems that children tend to have.
Orthodontics and dentofacial orthopedics. Are your teeth crooked and misaligned? Your orthodontist can recommend the most suitable orthodontic solution such as braces so you end up with a winning smile.
Endodontics. If you need a root canal, you need an endodontist. However, their specialty actually covers the overall health of the dental pulp and the tissues that surround each tooth.
Dental public health. These are the dentists who consider their whole community as their patients. They treat the community as a whole, instead of individually. They're the ones who convince government authorities to enact policies that help with oral care for the whole community.
Oral and maxillofacial pathology. You'll need an oral pathologist if your dentist suspects that you have some sort of disease in and around your oral cavity. The pathologist can test any tissue to discover and diagnose the disease.
Oral and maxillofacial radiology. This specialty was recognized only recently in 2003. These oral radiologists focus on taking radiographs properly and then diagnosing the radiographs correctly afterwards. Their training makes them the experts in finding even the slightest discrepancies from norms, and they're the best experts to diagnose any problem with facial structures.
Oral and maxillofacial surgery. As the name suggests, they perform surgeries such as removing wisdom teeth. However, they also perform other procedures like TMJ surgery (the TMJ is a joint in your jaw), put in dental implants, remove oral tumors surgically, and even perform reconstructive surgery if you've been in a serious car accident.
If you need a specialist in any area in dentistry, we can refer you to the right dentist. Call our office today so we can evaluate your dental needs.