Clear Braces (Invisalign)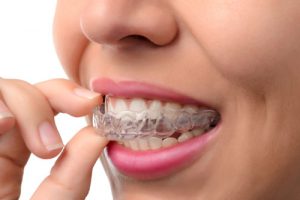 As you grow older, you may find that your teeth aren't as straight as they ought to be. This isn't just a problem among teens, as adults may have this kind of problem as well. The answer is to visit a dental practice that provides orthodontic treatments. If the idea of highly visible braces makes you hesitant, there's another alternative—Clear Braces (Invisalign).
What's Invisalign?
Invisalign corrects a bad bite by encouraging the teeth to set in the right place and direction. Unlike traditional braces, the process uses transparent aligners that are virtually invisible to other people. There's no metallic brackets and wires that can catch the attention of the people around you. You're able to wear these clear aligners in total comfort, and no one has to know that you're wearing them—unless you want to brag about it.
The key to the lack of metal brackets and wires is to design the aligners to fit perfectly in your mouth and teeth. This is accomplished with the use of advanced 3D imaging, which provides a superbly accurate view of the mouth so that the aligners can be constructed to fit you perfectly.
Benefits
Straightening the teeth isn't just about making your smile look much better. It also improves your ability to chew your food properly and to speak clearly. It also prevents abnormal wear to the teeth enamel. Even jaw problems can be the result of a bad bite and having braces can keep that from occurring.
Yet there's no denying the fact that having straight teeth can make you look more attractive. However, traditionally you had to deal with clunky braces that don't look great. Now with the virtually invisible Invisalign, you don't have to suffer any annoying problems in your social, workplace, or school interactions.
They're very comfortable to wear as well, and can be easily removed when you eat. This means there's no troublesome procedure to remove the braces when you have to, and you'll never have to suffer the indignity of having food bits stuck in your braces!
If your teeth aren't as straight as they ought to be, you may want to consider Invisalign.